My sewing patterns are printed directly on fabric, so you simply cut out the pattern pieces and sew. There are plenty of guides printed on the pattern to make your project extra-easy. You'll also find detailed illustrated tutorials and animated how-to videos to help you through. These patterns are designed with beginners in mind, so you'll find plenty of simplified methods.
In addition, fabric shrinkage as been accounted for, so you can machine wash and dry your projects.
Please tell your friends who sew about these patterns, so I can make more designs available.
Are you a textile designer who would like to use my sewing pattern files? Please click here.
MH0001 - Three 16" pillows in one yard.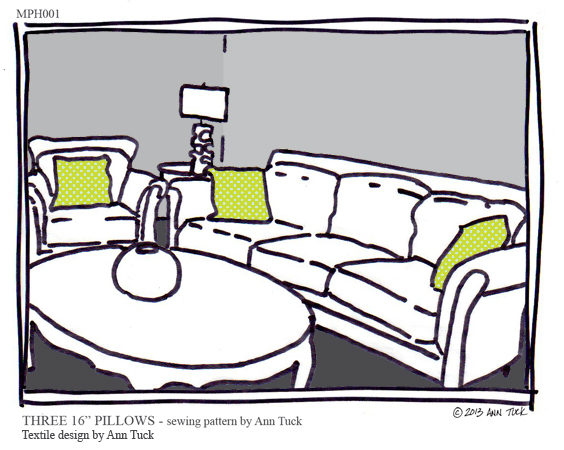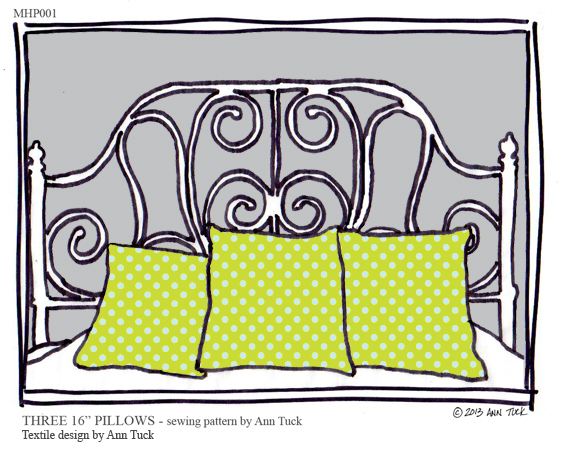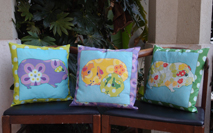 Perfect for both sides of a couch plus a side chair, or on a bed. Made with linen-cotton fabric.
MH0002 - Two 16" pillows and one 12"x16" lumbar pillows in one yard
Great for a sofa and chair arrangement because the lumbar pillow is particularly nice for chairs.
Available designs (Coming Soon!)
MPH0003 - Three 12"x16" lumbar pillows in one yard
I just love this size of lumbar pillows. Not only are they great for an extra-pretty back support on most side chairs, they make the perfect headrest while lounging around on the sofa. They're my first choice for a living room sofa and chair arrangement, but they're also great scattered here and there around the house to brighten things up.
Available designs (Coming Soon!)
MPH0004 - An assortment of 18", 16", and 14" pillows in one yard
Nice for a bed arrangement, or order a set for each side of the couch. You can choose two different sets and mix them up together for an extra-colorful effect.
Available designs (Coming Soon!)
MPH0005 - Dining and living room chair cushions in two yards. 24", 20" chair cushions plus 12"x16" lumbar pillow.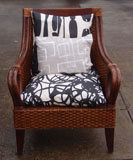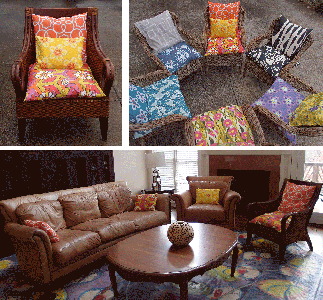 24" seat cushion, 20" back cushion, and a 12"x16" lumbar cushion. Fits most dining room and living room wicker chairs. No need to use the specially-shaped seat cushions--These squares work great. Don't bother re-upholstering your old living room chair. Replace it with a stylish wicker chair and change (and wash!) the pillow covers as you like. I like to use Ikea pillow inserts for chairs because they are nice and flat (and very inexpensive). Ikea's 26" pillow runs small, so it's perfect for the 24" pillow.
MPH0006 - Complete place setting with 24" and 20" chair cushions plus a reversible placemat and 20" dinner napkin in two yards
Mix and match for variety.
Available designs (Coming Soon!)
MPH0007 - Whole table of chair cushions for four chairs—four 24" seat cushions and four 20" back cushions in 6 yards
Or two chairs in 3 yards.
Available designs (Coming Soon!)
MPH0008 - Five reversible place mats in two yards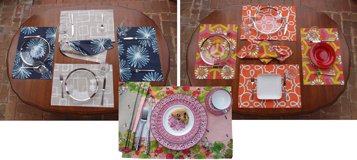 Place mats make wonderful gifts and they're a snap to make. These are reversible so you're really getting 10 place mats, but only have to store 5.